What is 蹊-Komichi-?
桃李不言 下自成蹊
This is the origin of the name of this store.
Translated literally, Momo Yasumomo doesn't say anything, but it means that people can gather together and make a "Komichi" because they bloom beautiful flowers and produce delicious fruits.
Momo Yasumomo is a parable of a moral person, but it is replaced with a cozy place.
My shop is open every day with the desire to be there.
Komichitei is such a shop
"A cozy place that doesn't apply to izakayas, restaurants or coffee shops"
That is the concept of this store.
A place where you can use not only meals but also tea or liquor in various ways depending on your purpose.
For those who enjoy a meal, those who can pinch a little, lightly, those who quietly read, those who spend time with family and friends… There are various customers.
When customers who know each other at the store are chatting with each other, it is a moment that makes me feel that it was good to be in the store.
We also hold small concerts and provide places for rehearsals and club activities.
Please use our shop in various ways with free ideas.
All recipes will be taught
All of the sauces and sauces used in our dressing and cooking are handmade in the store.
If you are interested in recipes, please feel free to ask.
Someone tells me that something I made from scratch is delicious,
That's something I'm happy about.
Takeout is also substantial
Since opening in front of Tsukushino Station in 2006, I have often heard such customer feedback.
I made a lot food, but now I dont do it ...
Because fried foods are hard to clean up ...
There are a lot of customers working together.
Everyone is busy with work and housework!
I will help those people a little! !
Plus one dish for today's side dishes, or to accompany supper ...
How about the "meal" at Komichitei?
Furthermore, our special set menu is "Bento", which you can take home with you.
We accept custom orders such as "How much is the budget ..." and "I want to ask for this lunch ...", please feel free to ask for your wishes.
Contact us here ↓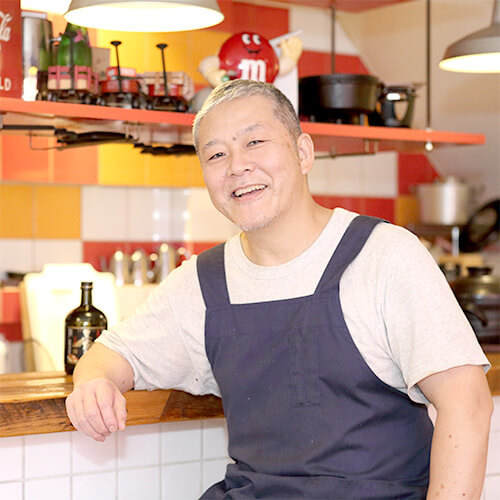 Introducing the owner
Shop owner Tatsuo Ishiguro
Worked at a department store until March 2000. I moved to the restaurant business in the hope of realizing my ideal customer service.
After that, I got into the charm of cooking. I like customer service as much as cooking.
We try to serve customers with a comfortable distance for each customer.
The owner's words